Comic artists – hire an illustrator
WE ARE THE PERFECT ILLUSTRATION TEAM FOR ANY PUBLISHER LOOKING TO HIRE A COMIC ARTIST.
See More
We are an experienced, versatile, well-oiled art team with proven experience in delivering quality artwork to spec and on time.
There are many approaches to creating sequential art and telling an effective story. But more often than not production involves a comic book art team, with each member bringing a unique and highly specialist skill to the table.
We use this 'production line' approach to comics as it helps us ensure the highest possible quality and a timely delivery.
WE work with a range of top-quality talent in order to deliver a variety of different styles of art, depending on the kind of story that needs to be told. These include storytelling & layout artists, pencil artists, inking artists, colour artists, letter artists, digital artists, project managers, writers, editors and specialist comic book printers.
Our service is flexible, bespoke, wide-ranging and can either act as a 'bolt on' supplier to your campaign, using us to fill in the gaps as needed or act as your dedicated comic book production team to see a project through from concept to print.
Put simply, we are comic book experts. If you need a hand with a project, or are inspired to explore how you can best utilise sequential art in an upcoming campaign, feel free to get in touch anytime.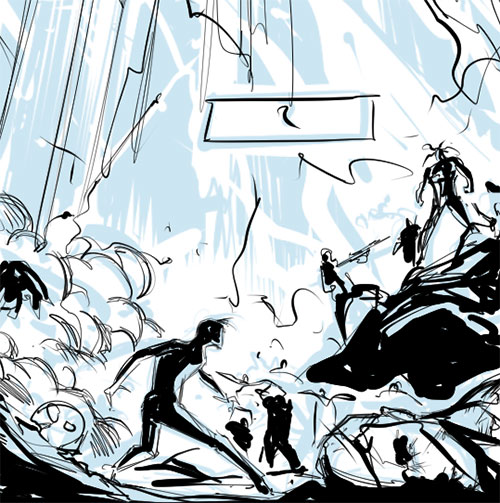 Not sure what to expect? No problem, you can find out a bit more about our process here!